Sweet or Savory – Crepes are the Best!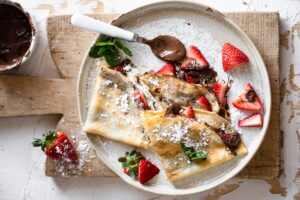 This is one of my personal favorites. Great for Sunday morning or even as a savory dish as a lunch or dinner. I'll be sharing some options for fillings later, but for now, here is the basic recipe for the crepe.
Ingredients
1 cup all-purpose flour 2 eggs
1/2 cup milk
1/2 cup water
1/4 teaspoon salt
2 tablespoons butter, melted
Directions
In a large mixing bowl, whisk together the flour and the eggs. Gradually add in the milk and water, stirring to combine. Add the salt and butter; beat until smooth.
Heat a lightly oiled griddle or frying pan over medium high heat. Turn down to medium heat (not too hot, very important!). Pour or scoop the batter onto the griddle, using approximately 1/4 cup for each crepe. Tilt the pan with a circular motion so that the batter coats the surface evenly.
Cook the crepe for about 2 minutes, until the bottom is very light brown. Loosen with a spatula to turn and cook the other side. Serve the crepes hot.
Serve crepes with Nutella, fresh fruit, yogurt, or a savory filling like mushrooms, green onions, sour cream etc. Be creative!
Did you try it? Would love to hear what your favorite filling for the crepes was! Comment below and share your filling ideas!
Please follow and like us: